Rijntje Paradise Kindertgarten - Leidsche Rijn Centrum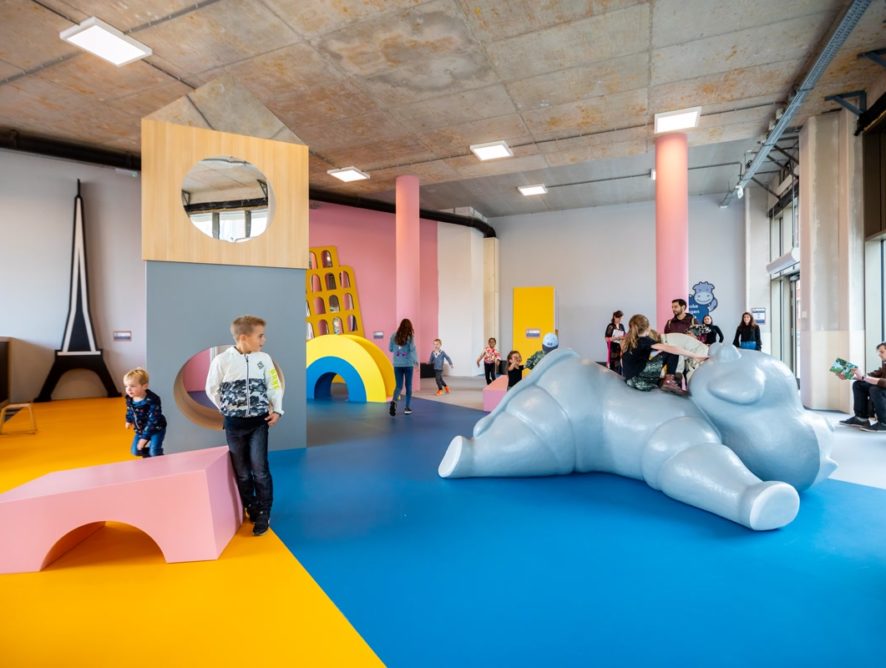 In a cell over 200 sqm, B&A has thought the layout of this bespoken Kindergarten dedicated to the shopping center's mascot Rijntje.
Rijntje is a very curious cow ! She has always wanted to travel the World to discover new cultures. These 2 past years, she has been on a roadtrip around Europe and would like to share her experience and what she discovered with the children of Leidsche Rijn Centrum in the Netherlands.
This is the story we wanted to tell while creating the layout of the bespoken kindergarten !
The children from 4 to 10 years old will discover the experiences Rijntje went through while playing in the European monuments.
The layout has been thought in 2 areas to offer a European experience to children : 
Motor Function Zone :

The Arc de Triomphe with a graphic design, offers a motor function experience for children : 2 suspended spheres allow children to climb, turn, balance and hang.
The Typical Dutch house with soft toned colors : this iconic house, 3,45 m high, has a rope maze in a tunnel and Rijntje maze outline ! Mirrors are on both side of the houses to créâtes a reflection game for children.
Big Ben, iconic monument of England, over 4 m high, gives a new and interactive experience for children. The augmented material (new process) detects when children pass in the Big Ben tunnel and triggers the sound of the Clock !
The Eiffel Tower, 4,20 m high, sparkles when children pass ! All you need to do is approach your hand near the question mark for the augmented material to detect your presence and switch on a Led band – Touch & Play Innovation !
The Tower of Pisa and his various mirrors, create a game of reflection in the entire Kindergarten. She also becomes an Instagrammable game : take a picture of yourself trying to catch hold of the Tower !
The giant sculpture Rijntje, mascot of the shopping center, gathers the children.
The slide is the children's favorite activity !
The Parkour modules create real activities for children : jump, climb, crawl, play with your balance, every children can create their own motor function parkour !

Birthday Zone :

The Pin Screen wall is a discovery game : children can imagine and create any shape or outer line they want.
The magnetic walls with a world map allows children to discover the world in a fun way !
A dedicated area (tables and chairs) to organize birthdays and privatise the Kindergarten !
An entertaining educational value for this layout in a shopping center Kindergarten.
Every European monument that we have manufactured has an educational panel to teach the story of the monument to children.
A graphic and architectural design
We have chosen to have a graphic floor and wall with large colored bands, very contrasted, to create an unique architectural effect.
An urban spirit, trendy, sculptural and fun !
An entertaining educational Kids Experiences to discover Europe !
Our other projects :